Bell, Northern Country

Vital statistics

Type
Town
Level
3
Location
Northern Country
Inhabitants
Unknown
Bell was a town located west of
Rubicon
and east of
Sumner Valley
.  The town is part of
Nothern Country
and has an important highway and railway running through town.  The town was established and constructed by AJM.
Bell is well known for it's technicolored homes and bridge that connects the town to other landmasses.  Across a channel of water from Bell is the small town of Holden.  The area is often simply referred to as Bell-Holden.
Originally the town had a train station, but it was removed sometime later and replaced by a central train depot inbetween Holden and Bell on the other side of the water channel.  This made connection from Holden quicker and easier.  Bell residents were none too happy about the move, but still managed to grow as they saw their downtown grow to include a thriving business street, small police station, town hall, a church, a hotel, and medical clinic.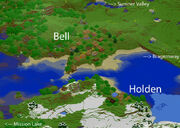 Ad blocker interference detected!
Wikia is a free-to-use site that makes money from advertising. We have a modified experience for viewers using ad blockers

Wikia is not accessible if you've made further modifications. Remove the custom ad blocker rule(s) and the page will load as expected.