Twin Lake Terrace, Northern Country

Vital statistics

Type
Town
Level
3
Location
Northern Country
Inhabitants
Unknown
Twin Lake Terrace had a unique designation as being the only settlement in
Northern Country
to not be founded and built by USAPatriot.  It was a suburb located south around the crescent bay from
Rubicon
and was part of the Rubicon Metro Area.  Twin Lake Terrace was founded, partially built, and named by Nick.
After the development of Fort Nick, Nick built a railroad that connected to a chunk of land south of Rubicon.  He set up a train station and named it Twin Lake Terrace.  After that he started to work on a residential area and commercial core up on a hillside.  The townsite also featured a swimming area along the coast, a lighthouse, and the first big box store known as A Mart.  Nick then stopped developing the area and left many plats of land undeveloped as he continued a separate rail line not connected to the route from Fort Nick to Rubicon.
After Rubicon and other suburbs to the north were fully established, USApatriot didn't like what he saw in the partially developed, oddly designed, Twin Lake Terrace.  Instead of plowing the town over, he tried to fix what he could, knowing full well the city could never fully follow the Northern Country standard.  It was for this very reason the city never fully prospered to full potential.  Under Northern Country rule now, Twin Lake Terrace became fully developed and had a new highway punched through it connecting it to Fort Nick and Port Orman.  This was a major boon and helped the town see some success.  A major kink that was never fixed was how people had to get off the rail route in one section of town, when leaving from Fort Nick, and get on from a different train station located in downtown to continue on their way to Rubicon and the rest of the world.  It was just a pain, but due to lack of space, it was never adjusted.
City Services

Edit
Twin Lake Terrace had a Public Safety Department, which was the same thing as a Police Department in other towns.  They also had a fire station but no medical clinic.  The closest was in nearby Rubicon.  
There was some shopping in downtown Twin Lake Terrace but it never prospered due to its out of the way location from the main roads.  That was poor planning by Nick, the original developer.  The one business that did prosper was A Mart which became a national chain within Northern Country.
Transportation

Edit
One of the most important highway ran through Twin Lake Terrace and connected the city to both the north, west, south, and east.
There were two rail stations in Twin Lake Terrace due to the the fact the rail system was never connected at this point.  It forced riders to leave one station, walk up a set of stairs to the downtown station, and catch a ride from there.
Landmarks
Edit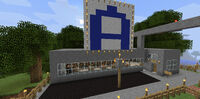 The most noteable landmark is the stumpy and thick waisted Twin Lake Terrace Lighthouse built by original town founder Nick.
Another landmark is the first and original A Mart located across from downtown.